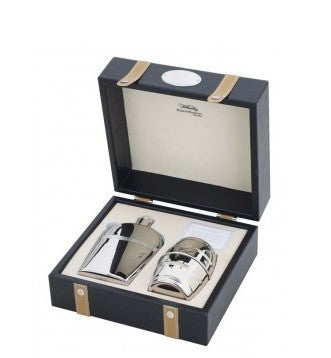 Reed & Barton
Hob Nob
The Hob Nob Beaker and Flask from Williamsburg by Reed & Barton makes an excellent gift for groomsman, birthdays, Father's Day and more. To "hob nob" suggests moving in good company, and this gift set will keep you in good company with anyone who receives it. Presented in a handsome faux-leather case, this set features a stainless steel flask and rum barrel-shaped double beaker. Part of the Williamsburg Hob Nob Collection.
NOTE: THIS GIFT SET CAN BE ENGRAVED AND PERSONALIZED.
Classic
Set includes flask and double beaker
Non-tarnish stainless steel, engravable
Faux leather case with engravable nameplate
Flask, H 6 1/8", Cap. 1/2 pint
Beaker, H. 2 1/2"